10 Old Gas Pumps most iconic
The most striking and iconic petrol stations around the world. With various shapes and design imaginable these gas stations have become real tourist attraction spots for lovers of the automotive world.
10. Jack Colker Union 96 Gas Station -

Beverly Hills, Los Angeles, USA (1965)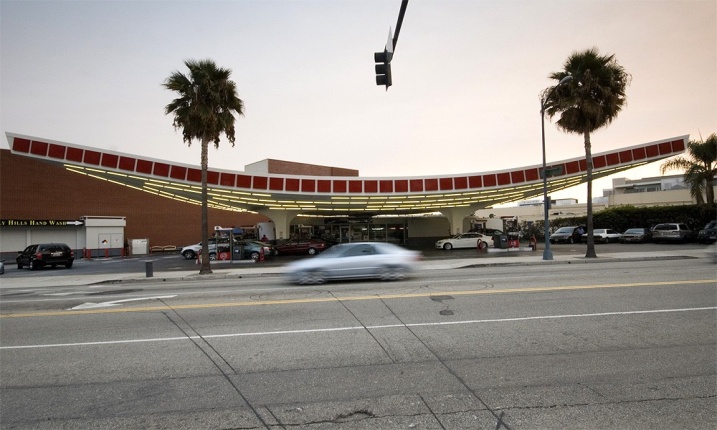 The iconic curved roof of the petrol pump Jack Colker Union makes it a landmark of Crescent Drive in Beverly Hills. The elegant structure was originally designed by Gin Wong to the airport in Los Angeles but was reused for this pump in 1965. It is one of the few positions in the list still in operation.
9. Tramway Gas Station -

Palm Springs, California, USA (1965)
Another landmark of gas stations in California is the Tramway, built in 1965 - now a visitor center - designed by Albert Frey and considered an outstanding example of modern architecture. The wedge-shaped building is located on Tramway Road, Palm Springs.
8. Esso, A6 -

Leicestershire, UK (1960)
This ESSO gas station is part of the English Heritage list. Built in 1960 with a cover desing round, is the last of its kind in the UK. The style was originally developed by Elliot Noyle for Mobil and quickly spread and became the appearance of a distinct era. The design of high coverage is still being used today.
7. Frank Lloyd Wright Station -

Cloquet, Usa (1956)
The Lindholm Service Station was established in 1956 by famed architect FL Wright and is obligatory passage point in Cloquet, USA. Since then some changes were made because originally, the pumps were installed in the ceiling and were pulled down for refueling. It is said that Wright created a comparison of milking of a cow.
6. Gas Station Prefabricated of Jean Prouvé

(1953)
This pump was created in 1953 by industrial designer and architect Jean Prouvé. Their design is a functional prefabricated station, which incorporates the need to increase the number of filling stations in a short time. The structure appears to be simplistic mounted in overnight and still be flawless.
5. Esso Dudok -

Netherlands (1953)
Built by WM Dudok, the ESSO petrol station, 1953 is a true design icon of the 50s. Dudok, considered one of the most influential modern architects Dutch developed the image of Esso gas stations in the country. At the time it became common for gas stations hire architects to develop a coherent concept for network stations.
4. Skovshoved Gas Station -

Copenhagen,
Denmark (1937)
This petrol station dates back to 1937 and was designed by Arne Jacobsen, a famous Danish architect. Its design style is reflected in the minimalist features of the building, consisting of a box-shaped shop and a single round coverage. The station has been preserved and remains one of the more functional pumps today.
3. Auto Palace -

Nijmegen, Netherlands (1936)
This modern petrol station "Auto Palace" in Nijmegen, the Netherlands, dating back to 1936. The canopy structure was created by BJ and J. Meerman van der Pijll. It is considered an excellent example of the style "New Objectivity" and is preserved as national treasures. Is out of service since 1977, was renovated in 1993 and is today used as an architectural firm.
2. Tower Conoco Gas Station -

Texas, USA (1935)
This art deco gas station located in Shamrock, Texas, is a point of worship for fans of historic gas stations and extravagant. The building was created in 1935, in what was then called Route 66. The historic service station, shop and café have been recently restored and are now used as tourist office.
1. Fiat Tagliero -

Asmara, Eritrea (1938)
This is probably the most imposing petrol station in the world. Erected in 1938 in Asmara, Eritrea, the Italian Giuseppe Pettazzi, this futuristic building was designed from the outset as a gas station. It is a relic of colonialism in Africa Italian-shaped plane and a masterpiece of architecture automobile.
Source: autovia.pt